Who's ready for some family fall fun in Fort Worth? It might not be chilly in Texas in September or even October, but we do know how to put on cool family activities. Our Fall Activities in Fort Worth and beyond do not wait for cool brisk weather to arrive. Here are a few of my family's favorite activities that you'll want to put on your calendar.
Because of COVID-19, some activities have canceled – see below. UPDATED for 2020.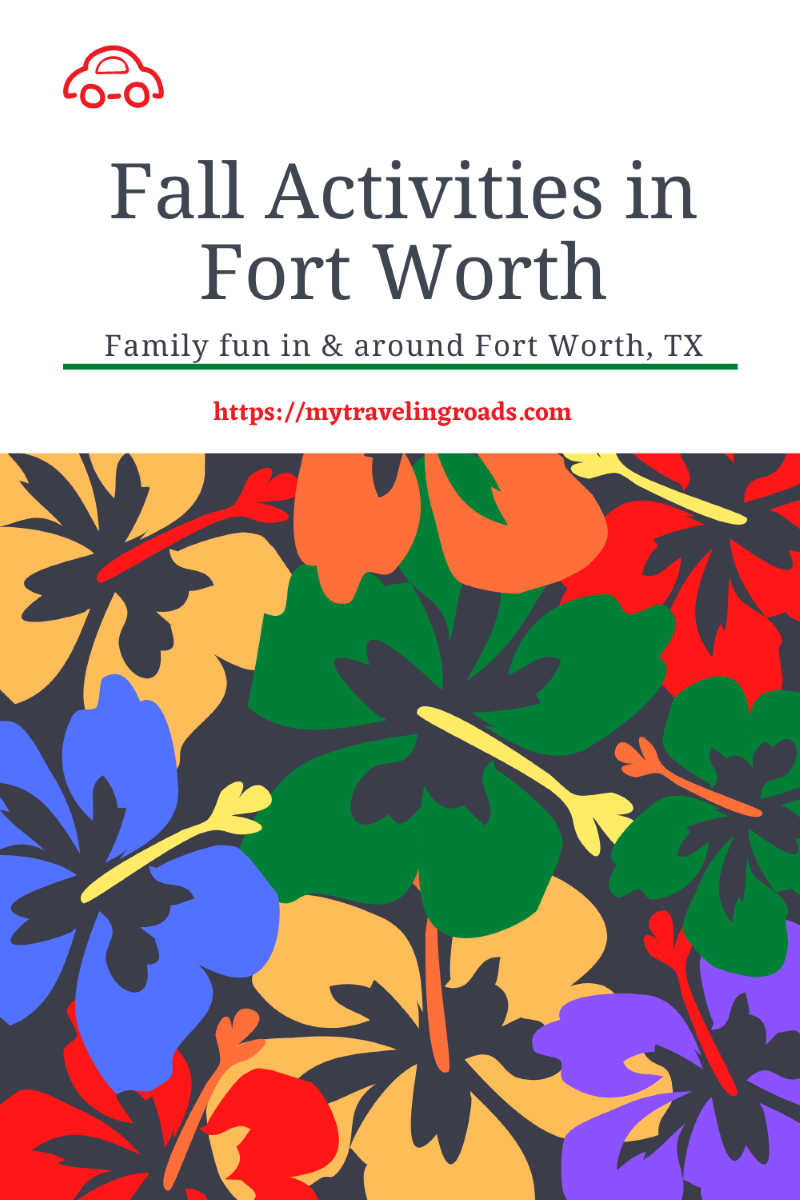 Fall Activities in Fort Worth and Beyond
2020 is by far going to be the year we all remember and perhaps want to forget. Things are different everywhere, and we must comply. As of right now, Tarrant County (Fort Worth is in this county) requires wearing a mask in public. The COVID pandemic has undoubtedly put a damper on our Fall activities in Fort Worth.
Enjoy the warm colors of Fall and the brisk cook air autumn brings to our area. My family loves outdoor activities, and we try to go to as many as we can. There's something about Fall that is so irresistible.
The holidays are just around the corner, and I've been busily updating my blog post on holiday activities and events in and around Fort Worth. Mark this page to come back to or look now!
Fort Worth Stock Show & Rodeo – Just Announced
They voted unanimously to cancel the 2021 show.
Vintage Market Days of Denton/Ft Worth
The location is at the NRS Event Center in Decatur, TX 309 CR 4228. Cost – $5 at the door. Vintage Days of Denton/Fort Worth is a huge event. The New rescheduled date is October 23-25, 2020.
Dog Days of Denton – No Date Scheduled for 2020
Typically in October of every year from 9 am – 3 pm at the North Texas Fair Grounds. www.dentondogdays.com
Rent a Kayak or Canoe on The Trinity River
Explore the longest contained river in Texas. You can rent a kayak, canoe, or paddleboard or launch your own at several locations—a great activity for social distancing. Rent from Backwoods Paddlesports 6 days a week at Panther Island Pavilion. Also, at Panther Island, you can rent paddleboats, and if it's warm enough, kids can swim. https://pantherislandpavilion.com/
Brody and I did this on August 6, 2020. It was fun, and we will do it again.
Fort Worth Nature Center & Refuge
Must register online before entering the facility. Mask required. Pets on a leash are welcomed. Call the Visitors' Center at (817) 392-7410 with any questions. Address: 9601 Fossil Ridge Rd., Fort Worth, Texas 76135. The nature center also offers guided hikes and hiking on your own. There is so much to do, and it looks to be opened to the public – check it out – http://www.fwnaturecenter.org/
My son and I have been here many times. We even rented a kayak here too. When we did, it cost only $5 for each person.
Where To See Fall Foliage In Fort Worth
Go here – Fall Foliage in Fort Worth
Oktoberfest Fort Worth 2020 CANCELLED
Boo at the Zoo – It's a Drive-Thru Experience This Year 2020
With sanitation and social distancing top of mind, the ZOO decided not to cancel Boo at the Zoo this year but instead put a spin on their typical event and design a unique environment while keeping the 29-year tradition alive.
October 22 through 25, 2020, from 4:30 to 7:30 pm Tickets are $45-$50 for each vehicle. Pack that van!! The Fort Worth Zoo
14th Annual Fort Worth Marathon
It's a go!! Saturday, November 8, 2020 – begins and ends at The Shack at Panther Island Pavilion.
North Texas State Fair & Radio – Denton – It's a go!
2217 N Carroll Blvd, Denton, TX. Friday, October 16-24, 2020. Save time and avoid the line – buy tickets online – North Texas State Fair. The ticket price range varies.
I feel there's going to be a crowd since the State Fair of Texas is canceled.
23rd Annual Butterfly Flutterby – Grapevine
Spirit of the Monarch Exhibit is now showing at the Visiting Center at 636 S. Main St.
Flower Mound Pumpkin Patch – OPENED!
Good News! I drove by their place today, and they are setting up the FM Pumpkin Patch. They will be opened on Oct 1-31, 2020, from 9 a.m. to 7 p.m. YAY! https://flowermoundpumpkinpatch.com/
Parking is $5 during the week and $10 on weekends.
Grapevine's GrapeFest – CANCELED
The Annual Grapefest in Grapevine has been canceled for 2020.
Fort Worth Coyote Drive-in
Fort Worth is bringing back drive-in movies. Now opened at Panther Island. See what movies are showing at the Coyote Drive-in.
Hall's Pumpkin Farm Grapevine – Opens Tomorrow! 
Opens October 2, 2020, at 3 p.m. Cost $5 admission (4-11 is $3) – CASH ONLY. This pumpkin patch has become our favorite now. Lots of corn mazes, hayrides, animals to see, mini pumpkins to buy, food trucks, bathrooms are nice. Some activities cost money. 3560 Hall Johnson Road, Grapevine www.hallspumpkinfarm.net.
Monster Jam
Who doesn't like watching big trucks run and dive in the mud! Back by popular demand at the AT&T Stadium in Arlington, TX on Oct 24-25, 2020. This is a fantastic event for Hot Wheel fans alike. Monster Jam promises to keep the whole family on the edge of their seats the entire time! Pre-sales start on 9/22/20.
Hallowfest at Six Flags Over Texas in Arlington
Starting September 25 through November 1, 2020, on weekends, only come out and get spooked.
The park is open on Monday, October 12, for Columbus Day but will not feature Hallowfest events and activities.
Celebrate Roanoke – CANCELED
Celebrate Roanoke – October from 10 am – 9 pm. Brody and I loved going to this event in the past. There are all kinds of things to do for the whole family, including bounce houses, food trucks, and vendors. www.roanoketexas.com
The Clearfork Farmer's Market – Fort Worth
A year-round farmer's market located in Clearfork on the Trinity Trails' riverfront is held on Saturdays.
Grapevine Open-Air Farmer's Market
By the gazebo every Friday and Saturday
Visit Southlake – Some Updates
OKTOBERFEST – CANCELED – it will be back in 2021.
Rescheduled ART IN THE SQUARE for 2021.
Not sure if this is happening – Monarch Butterfly Festival on a Saturday in Sept from 9 am – 12 pm at the Bob Jones Nature Center. Enjoy the release of the Monarch Butterflies. Cost: $5, children under three are free. It is located at 355 E. Bob Jones Road. This nature center is one of the best places to take a hike—lots of scenery and very educational about all living things.
TEXAS STATE FAIR – CANCELED
The Texas State Fair is canceled for 2020.
Fort Worth Cattle Herd – Updated & Opened!
HeeHaw – The FW Cattle Herd in the Stockyards is now operating as usual (weather permitting). Check it out – https://www.fortworth.com/the-herd/
2020 BELL FORT WORTH ALLIANCE AIR SHOW
October 17 & 18, 2020, and is free. From 9 am to 5 pm, Parking tickets are sold online only at https://www.allianceairshow.com/.
Happy Fall, Y'all! I know there are many more Fall Activities in Fort Worth and beyond, so I'll be updating this list when I find more cool family activities to attend. If you know of any, please leave the information in the comments, and I'll be sure to add it to my list here. Thank you.
Later this year…
Gaylord Texan's Lone Star Christmas – Parts of the Event is Canceled
I just got word that Gaylord Texan ICE has been canceled. ONLY ICE is canceled. Their Winter Wonderland is still going to operate and added more activities to go along with their theme. So, you can still ice skate, snow tube, do the gingerbread house activities. More to come.
Fall activities in and around Fort Worth – got one? Let me know, and I'll add it.
AND…if you're looking for a fall getaway close to Houston, BlissWood Bed and Breakfast Ranch is providing a wonderful fall-family getaway at their ranch – check it out!!