A Mother's love is like no other. Their love for us is unconditional and will last a lifetime. Mom's special day is coming up on Sunday, May 10, 2020. If you're looking for a gift to buy her, you will find some wonderful ideas in my Mother's Day gift guide below. This post has affiliate links, and I will be compensated if you buy after clicking on my links. 
Also, be sure to see the adorable bouquet wraps at the bottom. These are free to print out.
For 2021 – I will be updating this information soon.
Mother's Day Gift Guide with Coupon Codes
I'll be spending Mother's Day with my mom at Schlitterbahn in New Braunfels, TX while attending a blog conference with Texas Travel Talk. Sounds fun, uh? She and my son will be going with me, and we will have plenty of time to play at Schlitterbahn Water Park. I can't wait to show off my mom and have fun in the sun!
I just realized I have a lot of photos of my mom. She's a huge part of my life. All those years she raised me and took care of me, it's now my turn to take care of her. I've taken her many places with me. One of our most memorable trips was our Mother Daugther Colorado Trip to visit her sister and my cousin.
Below are Mother's Day promotions from a few of the brands I am affiliated with who are offering lovely gifts for mom.
Mother's Day Gift Guide
Moms Rock! Take some time this Mother's Day to show your #1 fan how much she means to you.
Seven Sisters Scones Free Gift for Mother's Day
If you haven't heard of Seven Sisters Scones, you'll want to check out their homemade goodies and Free Gift for Mother's Day. This special ends on 5/7.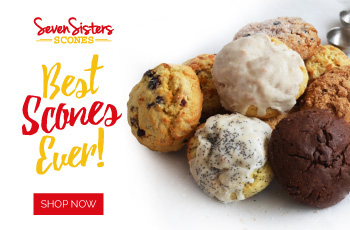 CanvasHQ
Do you have a favorite photo of your mom, or perhaps does she have a favorite picture of you or the grandkids? Put it on canvas for lasting memories. Here's an excellent special CanvasHQ is offering my readers. Use code FOREVERGREENMOM for 35% off your order with free US shipping! This special doesn't expire until 10/2020 so you have plenty of time to get one printed. They are fast too. CanvasHQ sent me a canvas of my son – see it here >>> Best Moments on Canvas
Free Printable Bouquet Wraps
Does your mom love flowers? If you're looking to elevate your Mother's Day bouquet, these printable bouquet wraps take a regular bouquet to the next level with gorgeous designs. They are super simple to add and make a huge difference!
Here's how – print out your favorite design — I recommend using thicker paper like cardstock to make the wrap more durable. I also suggest wrapping the bouquet in tissue paper if it didn't come with any. Now, cut out your wrap design and wrap it around the bouquet. Once you have your desired look, secure the wrap with tape. Now gift the bouquet to your mom to make her day!
I'll add more here as they come in. In the meantime, what will you be doing for Mother's Day?
You may also want to print out a coloring page for the kiddos to color – it's free.
For the little ones, here's a cute coloring page for mom – Free Personalized Printable Mother's Day Coloring Page